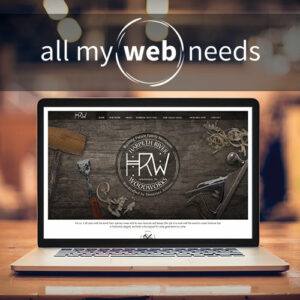 Starting and operating a small business is both exciting and intimidating. There are so many different things to consider, perhaps the most important of which is expense. Often times, the imagination and joy behind a business venture can be dashed by the reality of how much it costs to get things off the ground. Not only are there things we would generally plan for in some way, such as rent or other operating costs for brick-and-mortar companies, there are also those associated with competing in this highly web-based economy, regardless of whether or not your company has a storefront or solely operates online. Even if you have an existing business, sometimes there are expenses associated with expanding, re-branding, or simply revving up your presence amongst the competition. One of these expenses, which you may not have thought about, is your company's website.
You probably imagined or thought about your website in one way or another, whether it was spending hours dreaming up a visually stunning representation of your business, down to every click and detail of the web design, or simply remembering in passing that you needed one at some point to compete. Regardless of which category you fall into, or if you are somewhere in between, web development and design can be costly. Even a very small business may require a multi-page, complex site, costing thousands upon thousands of dollars. All of the flourishes, bells, and whistles you had in those dreams can add up quickly. Even if you want a basic site and aren't picky, getting a website that is functional, fits your needs, represents your business appropriately, and will attract clientele, can cost more than you had thought. In many cases, this is not something you budgeted for, but it is so important to your company's success.
Once upon a time All My Web Needs was just a one-man operation and an idea, so we understand all of the excitement, fears, and unexpected costs that arise when starting out and those that happen along the way. Because of this, and because we know exactly how much is at stake for you, we now offer a solution to those who did not plan for or simply cannot afford the upfront costs of website development to get their virtual presence up and running. With our subscription plan, you can pay by the month for your website in its entirety, much like you would any other operating cost, like rent or shipping. That way, not having all the money needed to put towards the best site your company can have, won't hinder you from having that site.
It is so important in today's fast paced and ever growing virtual marketplace for all businesses to be able to compete on a level playing field. The internet, in many ways, is such a venue. But having a professionally designed, constructed, and managed site, as well as a team behind you who knows how to optimize and promote that site, is crucial. While it may seem tempting to go to a domain hosting site that will give you a generic platform branded as yours, these services usually have little to no follow up support, if they even manage to get your site up and running correctly at all. With our subscription and services, you won't have to worry about a thing. What we do is right there in our title… We do it all! Website design, website development, search engine optimization, social media, graphic and logo design, writing, and more. We even offer hosting and domains. If it has to do with the web, it has to do with us.
Whether you are based in and around the Nashville area or you are all the way across the country, our team is here to help. As a member of our subscription service, or if you opt to pay upfront for our services, you will have the benefit of an actual human being to talk to about your concerns and questions. No speaking to a million people before getting to the right department. You will have an individual web specialist assigned to you who will know you and your business by name, as well as exactly what your site looks like, how it is doing, and what you are referring to when you call. Your satisfaction and success is tied to ours, so all of your needs, are our needs.
If you have been struggling with the idea of how to get your business the online presence it needs without starting out in the red, or if you need a new or re-imagined site for your existing business, give us a call today. We can discuss what you want and what your options are, and provide you with an upfront and affordable quote.